The basics....
Edit
Learn everything both directions, both hands. The slower you move, the faster you learn. These are fundamentals for CJ. Tutorials are generally arranged by importance as a foundation or difficulty.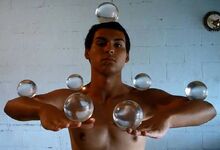 Transfers
Edit
Palm Circles
Edit
Progression: Finger rolls --> Palm circle --> Isolation --> Multiball
YouTube tutorial series by various CJers
Edit
Subcategories
This category has the following 3 subcategories, out of 3 total.
Pages in category "Tutorials"
The following 3 pages are in this category, out of 3 total.
Ad blocker interference detected!
Wikia is a free-to-use site that makes money from advertising. We have a modified experience for viewers using ad blockers

Wikia is not accessible if you've made further modifications. Remove the custom ad blocker rule(s) and the page will load as expected.